THE ART OF MASTERFUL LIVING:
EMBODYING THE FIVE ELEMENTS
THROUGH YOGA
with Todd Norian
at Sruti Yoga Center | Great Barrington, MA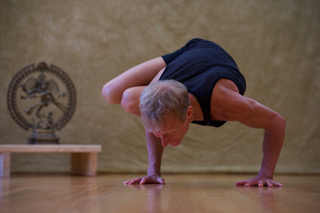 We are all made of the five elements: earth, water, fire, air, and sky. Masterful living is achieved when these elements are balanced within. When out of balance, you may feel contracted (too much earth), under water with emotional stress (too much water), unmotivated (not enough fire) or over-efforting (too much fire), scattered and fearful (too much air), or spacey and ungrounded (too much sky).
The Ashaya Yoga® practice brings about a flowing integration of all five elements that leaves you feeling strong, confident, peaceful, openhearted, and ready to engage with life wholeheartedly from a place of worthiness.
Todd Norian, E-RYT 500, is an internationally acclaimed yoga teacher. A student of yoga since 1980, he has immersed himself in many styles of alignment-based and heart-centered yoga. In 2012, he founded Ashaya Yoga® (AH-shy-ah) – a Sanskrit word that means, "abode of the heart" – which blends precise alignment techniques with empowering and spiritually uplifting philosophy. With warmth and humor, Todd excels at making deep philosophical teachings accessible and relatable. As an accomplished musician, Todd has created several music CDs for yoga, meditation, and relaxation. Todd welcomes students of all levels to awaken to their inherent potential for unlimited joy, vitality, and fulfillment. Practice with Todd online at Shri.tv. Learn more at www.ashayayoga.com.
Open Sky: Bask In Your Vastness
Saturday, March 2, 1-4 pm
ON LINE REGISTRATION FOR THIS MODULE IS NOW CLOSED. YOU CAN DROP IN AT SRUTI YOGA CENTER ON SATURDAY, MARCH 2 AT 12:30 PM AND REGISTER IN PERSON. YOU MAY PAY BY CASH, CHECK OR CREDIT CARD.
Please bring the following items with you :
Your yoga mat

A water bottle

A small snack for after class

Clothing layers: sweatshirt, T-shirt, yoga clothes, socks

A journal/notebook and pen
$65 for individual workshop
Discover how to open up your body, practice, and life. Be like the sky – vast and free. Enjoy a spacious, heart-opening practice including standing poses, backbends, hip openers, twists, and forward bends. Includes a sky meditation and deep relaxation.
Rich Earth: Transform Challenges Into Life-Enhancing Change
Saturday, April 20, 1-4 pm
$65 for individual workshop
Challenges never come to put you down. They only come when you are ready to rise. Learn how to engage with life's challenges with an open heart that transforms obstacles into opportunities. Build core strength, flexibility, and balance with standing poses, hip openers, inversions (with modifications and prep poses), and backbends.
Delicious Water: Gentle Yoga and Therapeutics For the Lower Back and Hips:
Saturday May 11, 1-4 pm
$65 for individual workshop
Gently open the body and practice therapeutic applications to soothe, restore, and strengthen the lower back and hips in order to flow better with the currents of life. Water always finds its way back to the source – the ocean of consciousness.
Bright Fire: Flame Of the Heart
Saturday, June 1, 1-4 pm
$65 for individual workshop
Masterful living is about tapping into your core power in order to source your true passion and vision for your life. Practice an inspiring sequence of postures that reconnects you to your heart where you recognize you are already whole and complete.
Expansive Air: Super Shoulder Openers
Saturday, June 29th, 1-4 pm
$65 for individual workshop
Open your air element and flow with the wind. Put it all together in this grand finale workshop where all five elements integrate together. Therapeutically align your shoulders, neck, and head, with your heart to gain access to a power greater than yourself. Practice a full spectrum class of standing poses, hip openers, inversions and hand balances (modifications given), backbends, forward bends, and twists, all in a step-by-step way that makes every pose accessible. End with a deep relaxation integrating all five elements.
NO REFUNDS
Yoga Alliance CEUs available